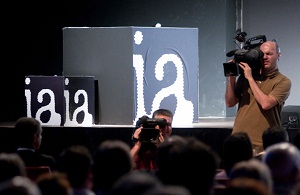 La crisi economica, l'Ilva di Taranto, gli ultimi criminali nazisti, la caduta di Gheddafi, i traffici di uomini e di rifiuti tossici. I migranti in fuga da guerra e povertŕ e la storia dei loro figli, nati e cresciuti in Italia senza avere la cittadinanza. Poi la criminalitŕ organizzata con le infiltrazioni della camorra nell'Agro Pontino, i festini con i padrini a Napoli, la sacra corona unita e le donne vittime della 'ndrangheta. Arrivano dalla sponda sud del Mediterraneo come dalle carceri italiane, dalla Russia e dall'Afghanistan come dal Veneto con i suoi capannoni fantasma, i video finalisti della diciottesima edizione del Premio giornalistico televisivo Ilaria Alpi, in programma dal 6 al 9 settembre a Riccione.
"Scegliere i finalisti č stato un lavoro faticoso, perché la qualitŕ va di anno in anno migliorando" spiega Luca Ajroldi, una vita alla Rai come inviato di guerra, caporedattore agli esteri e vicedirettore del Tg2, quindi direttore del tg di Tmc e della testata online Il Journal, da sempre nella giuria del Premio Ilaria Alpi fino a diventarne il vicepresidente. "Nelle redazioni, e forse un po' di merito č anche nostro – continua –, č cresciuta la voglia di fare giornalismo, di fare inchiesta a tutto tondo, di spostarsi e investire per raccontare vicende nascoste, con tassi di rischio non indifferenti".
I video finalisti portano la firma di volti noti delle tv nazionali e dei network internazionali, ma anche di giovani cronisti di web-tv e di emittenti locali. Tutti saranno presenti a Riccione durante la quattro giorni del Premio dedicato alla reporter della Rai uccisa nel 1994 a Mogadiscio insieme all'operatore Miran Hrovatin. "Si annulla sempre piů il gap tra servizi fatti per il web, per una tv locale o per un'emittente nazionale – aggiunge Ajroldi – e questo č senz'altro un fatto positivo. Č un vantaggio per i cittadini che sono piů informati, lo č magari un po' meno per noi della giuria, che abbiamo discusso, e non poco, per scegliere i 21 finalisti tra i 300 video in concorso".
I video finalisti
Sono otto le categorie del Premio Ilaria Alpi, i cui vincitori saranno proclamati la sera dell'8 settembre al Palacongressi di Riccione. Per il premio al miglior servizio da tg sono stati selezionati Giulio De Gennaro del Tg5, autore di una Caccia ai nazisti che ci conclude con un'intervista a Werner Bruss, il responsabile dell'eccidio di sant'Anna di Stazzema, Michele Cagiano De Azevedo di Sky Tg24, che ha invece filmato Il corpo di Gheddafi esposto al mercato di Misurata, mentre Marco Clementi ed Enrico Bellano del Tg1 in L'amazzone di Gheddafi raccontano storie di violenza e di umanitŕ nei giorni della caduta del Rais.
Tre i giornalisti in gara anche per il premio al miglior reportage breve (sotto i quindici minuti). Luca Bertazzoni di Servizio pubblico con il suo Un treno lungo la notte: sedici ore da Crotone a Milano, quattro cambi e i pendolari che sfogano la loro rabbia contro gli extracomunitari, "colpevoli" di affollare le carrozze. Fabbriche dismesse e piccoli artigiani che resistono sono i protagonisti di Veneto Spoon River di Alessio Lasta della trasmissione Rai L'ultima parola. Emilio Casalini di Report compie invece uno Spazzatour: il viaggio andata e ritorno dei rifiuti tossici, che partono dall'Italia, in Cina vengono lavorati e utilizzati nella fabbricazione di giocattoli, che tornano "nelle mani dei nostri figli".
Giovani di seconda generazione, il carcere e le donne "acidate" nei servizi finalisti del premio al miglior reportage italiano lungo. Fred Kuwornu di Babel.tv con 18 Ius Soli affronta il tema del diritto di cittadinanza per chi č nato e cresciuto in Italia da genitori immigrati. La vita di detenuti e agenti all'interno dei penitenziari italiani in Fratelli e sorelle di Barbara Cupisti di Doc3. Anna Migotto, Valentina Loiero e Sabina Fedeli di Terra! con Voci mai spente e la storia delle donne che si sono ribellate alla 'ndrangheta a costo della vita.
Arrivano dal canale di Sicilia e dall'est Europa i video in finale per il miglior reportage internazionale. The Price of Sex di Mimi Chakarova per The Documentary Channel č un lungometraggio sulle giovani donne dell'est vittime del traffico sessuale. The Nigerian Connection di Chiara Caprio, Juliana Ruhfus e Orlando von Einsiedel di Al Jazeera English svela la violenza delle gang mafiose che gestiscono i traffici umani dal continente africano. Č una storia di immigrazione e disperazione anche quella di Mare deserto a opera di Emiliano Bos e Paul Nicol della Radiotelevisione svizzera: un gommone alla deriva per 15 giorni, 63 morti e l'indifferenza delle forze Nato di pattuglia sul Mediterraneo.
Puglia protagonista della categoria miglior servizio di televisioni locali e regionali, con due dei tre servizi in finale prodotti dalla salentina Telerama. Sono quelli di Danilo Lupo che racconta La rivolta dei migranti e le minacce dei caporali, chiedendosi "dov'č lo Stato a Nardň", mentre la collega Lucia Portolano con Mesagne e la Scu si lancia sulle tracce della sacra corona unita. Spazio anche al Piemonte, con Daniela Giacometti di Telesubalpina e il suo Amianto Balangero Italia: dal processo celebrato a Torino ai vertici della Eternit al dramma dei luoghi in cui si continua a morire, un viaggio per capire se e come sia cambiata la cultura del rispetto del lavoro e dell'ambiente.
Nasce invece quest'anno la sezione dedicata al miglior servizio delle web tv. In lizza per il premio Attilio Bolzoni che nell'inchiesta per Repubblica.it I nuovi signori di Sabaudia racconta le infiltrazioni camorristiche nell'economia, nel turismo e nella politica dell'Agro Pontino. La camorra al centro anche di Napoli, Il bacio del padrino di Claudio Pappaianni e Andrea Postiglione del sito dell'Espresso: durante la Festa dei Gigli nel quartiere Barra, i boss arrivano su una Rolls Royce in un tripudio di palloncini e applausi. Si torna al dramma delle carceri con Just(ice) in Italy di Valentina Ascione e Simone Sapienza di Fainotizia.it: la miseria e la solitudine di chi č stipato in pochi metri quadri, oltre i limiti della legalitŕ costituzionale.
Tre i servizi finalisti anche per il premio della critica, assegnato da una giuria composta da Paolo Ojetti (Il Fatto Quotidiano), Riccardo Bocca (l'Espresso), Alessandra Comazzi (La Stampa), Antonio Dipollina (La Repubblica), Francesco Specchia (Libero), Maurizio Turrioni (Famiglia Cristiana) e Mirella Poggialini (TV Sorrisi e Canzoni). In Zio Ennio. La sacra corona unita a Mesagne, Francesca Fagnani di Servizio Pubblico con la telecamera nascosta riesce a parlare con il padre di un capoclan, che ha ripudiato il figlio "infame". Porta la firma di Gabriele Del Grande, Alessio Genovese, Manolo Luppichini e Nancy Porsia il videoreportage Libia un anno dopo, trasmesso da Presa diretta: finite guerra e dittatura di Gheddafi, quale destino attende il popolo libico? Di stretta attualitŕ č Schiavi del lavoro, girato da Alessandro Sortino e Lorenzo Degiorgi di Piazza Pulita a Taranto, cittŕ divisa tra salute e lavoro, dove la gente deve scegliere "se morire di fame o morire di cancro".
Sono invece inediti – e il vincitore si guadagnerŕ la messa in onda su Rai 3 e Rainews - i video in corsa per il premio IA Doc Rai. Franco Fracassi con Blue Ghost mostra le due facce dell'Afghanistan, con le donne che contemporaneamente sono la risorsa del Paese e le uniche vittime di una societŕ corrotta e violenta. In Kome un palloncino Massimiliano Cocozza racconta l'eroica lotta delle persone affette dalle malattie neoplastiche, dopo aver vissuto per nove mesi a fianco di una malata terminale. Č girato in Russia Giornalisti in prima linea di Giorgio Fornoni, con le minacce e le violenze ai danni di reporter "con la schiena dritta".
Č infine riservato ai tele-cineoperatori il premio Miran Hrovatin: a ore verranno selezionati i finalisti.
La cerimonia di premiazione e tutti gli appuntamenti del Premio Ilaria Alpi rientrano nei festeggiamenti di Riccione 90 e sono a ingresso libero. Il programma completo č disponibile sul sito www.premioilariaalpi.it.