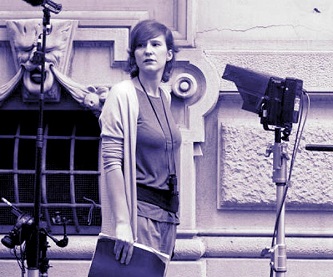 Streeen, la piattaforma torinese per lo streaming del cinema indipendente e d'autore, porta il tema della parità di genere nell'industria cinematografica ai Productions Days, organizzati da Film Commission Torino Piemonte nell'ambito di TFI Torino Film Industry.
Sabato 27 novembre, dalle 11.00 alle 12.30 al Circolo dei lettori (Via Bogino 9, Torino. Ingresso con accredito Production Days), si terrà il panel finale di
The Purple Meridians
, progetto realizzato da Streeen (Italia) in partnership con l'Osservatorio OVNI (Spagna) e l'Associazione Rosa Kadın Derneği (Turchia), con il sostegno di Gender Equality Sponsorship per il 2021 di Eurimages.
Durante il mese di novembre, 18 registe provenienti da Spagna, Turchia e Italia hanno partecipato ad una serie di workshop confrontandosi sullo stato delle cose in un'industria ancora predominata dalla presenza e dallo sguardo maschile. The Purple Meridians è il luogo, materiale e simbolico, per dare voce ai bisogni e ai diritti ancora inespressi delle filmmaker europee, con l'ambizione di creare un network professionale in cui condividere, partendo dalle proprie esperienze, strumenti, conoscenze e proposte per abbattere il gender gap nel mondo del cinema. Agli incontri teorici seguiranno delle giornate di proiezioni di film aperte al pubblico.
Ognuna delle nazioni partecipanti al progetto, proietterà una selezione del programma di cortometraggi ed estratti da film delle registe di The Purple Meridians.
A Barcellona, grazie alla collaborazione con Drac Magìc, a Diyarbakır negli spazi di Rosa Kadın Derneği e a Torino, il 6 dicembre al Cinema Centrale Arthouse, in collaborazione con il 39 Torino Film Festival (26 novembre – 4 dicembre), ingresso 6 euro.
Tutti i cortometraggi saranno disponibili gratuitamente online sabato 18 e domenica 19 dicembre, sottotitolati in lingua inglese, sulla nuova versione internazionale di Streeen all'indirizzo streeen.org/en, dove rimarranno in seguito disponibili on demand per continuare a promuovere il progetto, insieme ai contenuti realizzati durante i workshop.
All'incontro del 27 novembre saranno presenti Luciano D'Onofrio - The Purple Meridians Italian Director / CEO Streeen, Maddalena Merlino - The Purple Meridians Italian Coordinator / Streeen Head of Acquisition, Rosa Barotsi - ricercatrice universitaria, Gender inequality in the Italian Film Industry, Università Cattolica di Milano, le registe italiane Giulia Cosentino, Wilma Labate, Chiara Ronchini, Claudia Tosi e Mariangela Ciccarello.
INTERVENGONO (in collegamento) Rosa Kadın Derneği - Diyarbakır Observatori OVNI (Barcelona) e le altre registe partecipanti al workshop (Italia, Turchia, Spagna).