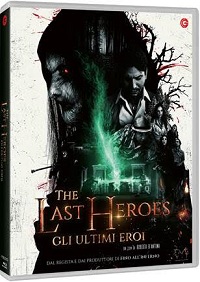 The Last Heroes - Gli Ultimi Eroi
è ora disponibile al grande pubblico in Home Video, in Dvd, Blu Ray e Digital Download. L'ultimo lungometraggio firmato dal giovane Roberto D'Antona – al suo terzo film, dopo The Wicked Gift e Fino all'Inferno – pubblicato da CG Entertainment e prodotto da L/D Production Company è finalmente pronto per raggiungere le case di tutti gli appassionati del genere fantasy/horror e non solo. In seguito all'anteprima nazionale svoltasi a Milano lo scorso 25 Ottobre presso il MIC - Museo Interattivo del Cinema, alla presenza della produzione, del Main Cast e della stampa,
The Last Heroes
ha già ricevuto vari riconoscimenti importanti da festival internazionali.
The Last Heroes – Gli Ultimi Eroi
è un urban fantasy a tinte horror, ricco di azione e suspense, che racconta di come un gruppo di amici si ritrovi, dopo 20 anni, ad affrontare l'oscura entità con cui erano entrati in contatto da bambini che oggi minaccia la città in cui sono cresciuti e, forse, tutto il mondo. Il protagonista, interpretato dallo stesso D'Antona, scoprirà in questo la missione della sua vita. Ad interpretare l'oscura entità demoniaca, Kaisha, Annamaria Lorusso, mentre a dare vita agli eroi del titolo ci sono Francesco Emulo, Nicole Blatto, Erica Verzotti e Fabrizio Narciso aiutati da un misterioso mago, interpretato da Mirko Giacchetti. In loro aiuto, accorreranno due spaesati sbirri e una coppia di ambigui palestrati. Anche questa volta, D'Antona proietta il pubblico all'interno di un mondo surreale e tuttavia credibile, evocando paure ataviche tra le quali, la più grande, è quella della perdita di persone a noi care.
Il film è stato già distribuito all'estero in 68 Paesi sulla piattaforma Amazon Prime Video e in alcuni Paesi in esclusiva sulla piattaforma Apple TV.
In Italia The Last Heroes – Gli Ultimi Eroi è disponibile in Dvd, Blu Ray e Digital Download (noleggio e acquisto digitale) sulla piattaforma CG Entertainment a questo link
https://www.cgentertainment.it/film-dvd/the-last-heroes-gli-ultimi-eroi/f22123/
e nei migliori store.
Attualmente la L/D Production Company si sta occupando della post-produzione del film horror Caleb che verrà rilasciato il prossimo anno e stanno lavorando per l'apertura degli L/D Studios che vedranno luce nei primi mesi del 2020.