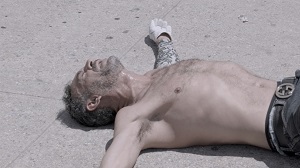 The Lives of Mecca
, opera prima del giovane regista milanese Stefano Etter ha conquistato il Premio Toret "Alberto Signetto" – Miglior Documentario della sezione PanoramicaDoc riservata ai documentari della 15° edizione del
Piemonte Movie gLocal Film Festival
, che si è tenuta a Torino dal 9 al 13 marzo.
La giuria, presieduta dal regista
Giuseppe Gaudino
, ha selezionato
The Lives of Mecca
tra dieci documentari finalisti e ha assegnato il premio al giovane regista milanese, classe 1988 e specializzato in regia cinematografica presso il CISA di Lugano, con la seguente motivazione: "Per la metafora sullo spirito di resistenza alle avversità della vita, attraverso la pratica di un gioco estremamente semplice che diventa collante di relazioni umane. Il campo di handball diventa un non-luogo confinato che si pone come dimora e prigione dove ritrova pace lo spaesamento di uomini e donne che ogni giorno vi fanno ritorno per contenere follia e ricercare un miraggio di libertà. Riconosciamo la modernità del linguaggio dell'autore per aver superato un classico taglio documentaristico e per aver catturato i protagonisti attraverso una straordinaria empatia."
Il documentario, prodotto da Pic Film, CISA (Conservatorio Internazionale Scienze Audiovisive), Una Film Srl e RSI (Radiotelevisione Svizzera), è stato presentato in anteprima nazionale al Piemonte Movie gLocal Film Festival e racconta la realtà quotidiana de La Mecca, il più grande complesso di American Handball di New york, a Coney Island. Qui si può fare terapia di gruppo senza raccontare i propri problemi perché i "pazienti" non stanno seduti in cerchio a parlare. Si chiamano handballers e si sfidano correndo e scagliando contro un muro una pallina chiamata "big blue". A mani nude. Negli Stati Uniti, infatti, l'Handball è uno "sport di strada" tra i più diffusi e praticati dai giovani, ma meno riconosciuti a livello professionale.