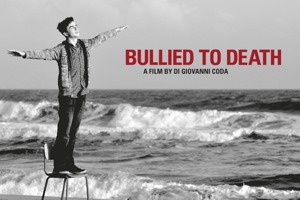 BULLIED TO DEATH
, il nuovo film di Giovanni Coda , è alla ricerca di fondi attraverso una campagna di crowdfunding su
Indiegogo
.
​
Bullied to Death
è un progetto cinematografico indipendente, che mira a utilizzare nuove strade comunicative tra cinema, fotografia e arti performative, per colpire emozionalmente lo spettatore. Le immagini-suggestioni del film prendono spunto dalla vera storia del giovane J.R., quattordicenne di Buffalo suicidatosi nel settembre del 2011, dopo i ripetuti atti di bullismo, a scuola e sul web, cui veniva sottoposto in seguito al suo coming out.
Una storia dal respiro universale di solitudine e di riscatto negato. È questa universalità che spinge l'autore a raccontare i fatti attraverso schemi narrativi atipici, utilizzando generi e linguaggi diversi, puntando a creare un film sensoriale, non didascalico, la cui essenza va colta attraverso una visione fisica.
L'universalità dei sentimenti abbracciati dalla vicenda del giovane statunitense consente al regista di ambientare la narrazione in uno spazio tempo non definito, lavorando con attori-performer che si alternano incarnando la voce narrante.
Per lo stesso motivo l'intero film verrà girato in lingua inglese per raggiungere un pubblico più ampio possibile.
Perché il crowdfunding? Grazie al grande successo de Il Rosa Nudo, precedente lavoro del regista, è stato possibile affrontare la pre-produzione e le prime settimane di lavorazione di Bullied to Death. Ma per riuscire a coprire la restante parte dei costi di post produzione e distribuzione abbiamo deciso di lanciare questa campagna di crowdfunding.
"Contiamo sul vostro supporto, per raccontare una storia in grado di colpire tutte le coscienze, attraverso la messa in scena di azioni e sentimenti che, sebbene spesso visti come estranei, toccano ognuno di noi nel profondo. Vi ringraziamo per l'attenzione e vi chiediamo, se il progetto vi interessa, di condividerlo".

La campagna di crowdfunding.