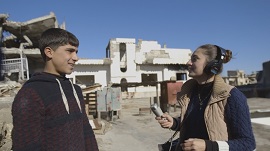 Una scena di "Radio Kobani"
Il ritorno alla vita della città che è divenuta simbolo della resistenza all'Isis, in un inno di speranza diffuso su onde radio. Questo è "
Radio Kobanî
" (Paesi Bassi, 2016, 70'), il film di Reber Dosky che costituirà l'evento speciale della quarta giornata del 58/mo Festival dei Popoli, venerdì 13 ottobre ore 20.30 al cinema La Compagnia (via Cavour 50/r). Girato nell'arco di tre anni, il film racconta la storia di Dilovan, una giovane ex studentessa curda che, durante la guerra di liberazione dalle milizie di Daesh, organizza con un gruppo di compagne una stazione radio per restituire calore, forza e speranza agli abitanti di una città ormai quasi completamente rasa al suolo ma ancora viva. I programmi, costituiti in maggior parte da interviste ai sopravvissuti, profughi di ritorno, combattenti e poeti, danno un senso di appartenenza a tutti gli ascoltatori, che si trovano a dover ricostruire la città e il proprio futuro. Anche Dilovan usa la radio per raccontare la propria storia, in forma di messaggio al bambino che potrebbe avere un giorno. Un racconto amaro, intimo e poetico che analizza la rinascita dopo il conflitto raccontando il trauma, la guarigione, la speranza e l'amore.
Da segnalare, sempre alla Compagnia, alle 18.15 il documentario in concorso internazionale "
Maman Colonelle
" (Repubblica Democratica del Congo/Francia, 2017, 72'), con cui il regista Dieudo Hamadi segue le battaglie di Honorine Manyole, vedova quarantaquattrenne madre di sette figli a capo dell'unità di polizia per violenze sessuali e la protezione dei minori di Bukavu, in Congo. Trasferita in una nuova città, Honorine si ritroverà a fare i conti con le orme disumane lasciate dalla guerra tra ugandesi e ruandesi, e a confrontarsi con nuove sfide da affrontare con tenacia, abnegazione e dedizione. Il film sarà introdotto dal corto "
Palenque
" di Sebastian Pinzon Silva (Colombia/USA, 2017, 26'), ritratto di un piccolo paese colombiano tra documentario e musical. Alle 22.30 spazio alla musica con "
Monterey pop
" di D.A. Pennebaker (USA, 1969, 79'), la cronaca di un fine settimana passato alla storia nel giugno del 1967, quando all'apice della Summer of Love a Monterey si tenne il festival che catturò lo spirito di un decennio e aprì una nuova era per il rock lanciando artisti come Jimi Hendrix, Janis Joplin, Otis Redding e Simon e Garfunkel.
Al cinema La Compagnia le attività del festival partiranno alle 11.00 con How I did it, incontri aperti al pubblico con i registi del festival. Alle 15.00 al via le proiezioni con due corti in concorso internazionale: "
Duelo
" (Cuba, 2017, 12'), in cui Alejandro Alonso Estrella osserva un antico rituale caraibico per placare i demoni interiori e le inquietudini, e "On the edge of life" (Siria, 2017, 45'), storia di perdita e migrazione dalla Siria verso la Svezia, firmata da Yaser Kassab. Alle 16.30, sempre in concorso internazionale, "
En la boca
" di Matteo Gariglio (Argentina/Svizzera, 2016, 25'), la quotidianità di una famiglia particolare, i Molina, che abitano allo stadio del Boca Juniors a Buenos Aires e intorno a questo polo calcistico fanno ruotare tutta la loro vita, e "
Conversation with a cactus
" di Elise Florenty e Marcel Türkowsky (Giappone/Francia/Gremania, 2017, 45'), uno spaccato sugli studi del dottor Ken Hashimoto, che negli anni '70 provò a comprendere la lingua dei cactus. Entrambe le proiezioni saranno alla presenza degli autori.
Allo Spazio Alfieri (via dell'Ulivo 6) la giornata si aprirà con due cortometraggi realizzati dagli studenti della Scuola Holden di Torino, con gli autori in sala: "
Anna. Voce di un'ostetrica
" di Teresa Debenedettis (Italia, 2017, 28'), un'analisi della scelta di partorire in casa e del lavoro intimo, quotidiano e premuroso che l'ostetrica svolge con le future madri, e "
Percezioni
" di Alfredo Milano (Italia, 2017, 30'), in cui tre personaggi femminili, tre artiste, guidano lo spettatore nei rispettivi mondi che percepiscono ognuna col proprio senso d'elezione: chi la vista, chi l'udito, chi il tatto. Si continua alle 16.45 con "
Theatre 2
" (Usa/Giappone, 2012, 170'), lavoro del maestro Kazuhiro Soda (ospite del festival) che si concentra sul rapporto tra il famoso drammaturgo Oriza Hirata e il mondo contemporaneo, per assicurare la sopravvivenza della sua arte. Alle 20.30 la questione dei migranti sarà protagonista con "
Arca Hotel
" (Italia, 2017, 54'), il film di Gabriele Licchelli e Santiago Raphael Priego, presenti in sala, che segue cinquanta migranti ospitati in un vecchio albergo degli anni '80 in attesa che la commissione territoriale si esprima sul loro diritto a ricevere i documenti: tutti ragazzi tra i venti e i trent'anni provenienti dall'Africa Occidentale, sospesi tra le difficoltà del passato e l'incertezza del futuro. Conclusione alle 21.45 con "
Meuthen's Party
" di Marc Eberhardt (Germania, 2017, 93'), ritratto di Jörg Meuthen, professore di economia candidato al parlamento del Baden-Württemberg come capolista del partito della destra populista AfD (Alternative für Deutschland), un politico di provincia che non si esime dallo spargere sentimenti razzisti con il sorriso sulle labbra.
Partono oggi alle 18.30 le proiezioni all'Istituto Francese (piazza Ognissanti 2r) con "
Atelier de conversation
" di Bernhard Braunstein (Austria/Francia/Liechtenstein, 2017, 72'), uno sguardo sugli incontri settimanali tra persone di tutto il mondo che desiderano praticare il francese ospitati al Centre Pompidou. Per qualche ora si siedono insieme rifugiati di guerra e uomini d'affari, studenti e vittime di persecuzioni politiche.
Presso AICS Firenze (largo Braille 4) continuano le proiezioni del progetto Meridiano Zero. Si parte alle 17.00 con "
Jardines de Plomo
" di Alessandro Pugno (Perù/Italia/Spagna, 2016, 54'), per continuare alle 18.30 con "
K2 and the invisible footmen
" di Iara Lee (Pakistan/USA/Brasile, 2015, 7'), e alle 20.30 con "
Eco de femmes
" di Carlotta Piccinini (Italia, 2014, 30'). E ancora: alle 21.15 "
This is not paradise
" di Gaia Vianello (Libano, 2014, 50'), alle 22.30 "
Une autre chance
" di Andrea Munafò (Senegal, 2016, 12') e alle 23.100 "
Uncut
" di Emanuela Zuccalà e Simona Ghizzoni (Italia, 2016, 20').