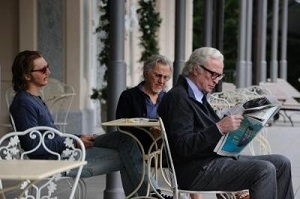 Una scena di "Youth - La Giovinezza"
YOUTH
, tirando in ballo Cicerone, lo si potrebbe re-intitolare De Senectute, perché in fondo tratta di due magnifici vecchi di età ma giovani di mente e spirito che si crogiolano passando il tempo e vedendolo scorrere in un sontuoso albergo delle Alpi svizzere (Grigioni), non lontano da Davos, immerso nella natura.
Il primo, Fred Ballinger (che
Michael Caine
interpreta in modo insuperabile), è il puro british, flemmatico, compassato e filosofo a modo suo, compositore e direttore d'orchestra in pensione che porta con eleganza i suoi 82 anni.
Il secondo, Mick Boyle, regista di molti film (
Harvey Keitel
al meglio delle sue interpretazioni) è americano prammatico e deciso, talvolta violento, ancora in attività che cerca di terminare il suo ultimo film, il suo testamento cinematografico.
Due mondi, due passati, ma un solo futuro non lontano. Alla vita i due compari hanno preso molto e dato tanto. Trascorrono le loro giornate tra saune, massaggi, controlli medici, passeggiate nei boschi, dove il compositore fa suonare le campane delle mucche nello sconfinato immaginario di Paolo Sorrentino e soprattutto conversazioni intelligenti, spiritose, frizzanti, ma mai ipocondriache, che ricordano il loro passato glorioso o meno e il futuro, racchiuso in un nulla.
Intorno non solo la natura ma personaggi folkloristici da Grande Bellezza con le loro manie e i loro tic. C'è un simil Maradona obeso, ma agile come un capriolo che si destreggia con un pallone, un Dalai Lama meditativo nella ricerca ostinata della levitazione che verrà solo dopo molti tentativi, una coppia di mezza età, distinta ed elegante che non dice parola, un' abile, flessibile massaggiatrice dai denti incastrati di perline che dà sollievo ai pazienti non solo con il tocco delle sue mani agili, ma anche con le sue espressioni spirituali.
C'è la bella figlia del compositore affranta per l'abbandono inaspettato di suo marito. L'inetto, così lo definisce il padre Mick, si mette con una cantante pop che come bellezza non arriva alla caviglia di Lena, la sua ex (una bella e brava Rachel Weisz) , ma che a letto è una bomba.
E poi Paul Dano, attore timido e introverso che viene riconosciuto dai suoi ammiratori unicamente per il film nel quale personifica un robot. Ma soprattutto Miss Universo, che nello splendore della sua nudità, apparendo nello spa come una visione rende estatici i due anziani. "Who is she ?"-chiede il compositore- "God" risponde candidamente il regista.
Tra le scene da manuale eccelle l'incontro del regista con la sua attrice-musa Brenda Morel, che rifiuta brutalmente di essere la protagonista del film. Lei (una Jane Fonda, mostro sacro della recitazione e icona di un cinema che non tramonta mai), pur amandolo fa abortire non solo il lungometraggio, ma dà un giudizio estremamente negativo anche sul suo lavoro. L'incontro-scontro è fatto di repliche secche, brillanti e dissacratorie che come massi si abbattono sull'autostima dell'anziano e lo fanno desistere non solo nel continuare il suo lavoro, ma anche dal vivere.
Con
Youth
, sontuoso e immaginifico, Paolo Sorrentino ha creato un vasto opus di parole, intelligenti, umoristiche, sarcastiche, consolatorie e splendide immagini in un unicum che diletta la vista e appaga lo spirito. Sulla Croisette è salutato, applaudito sia nella proiezione stampa, sia in quella ufficiale come uno dei suoi film migliori. Il più completo sul piano della creatività e su quello cinematografico. Anche la colonna sonora non è da meno.
Con
Youth
il regista napoletano torna per la quinta volta nel Concorso a Cannes dopo
La Grande Bellezza, This Must Be the Place, Il Divo, L'amico di famiglia e Le conseguenze dell'amore
. Questa volta, 14 anni dopo la vittoria di Nanni Moretti con
La stanza del figlio
, il suo dramma poetico-umoristico, girato in inglese e con un cast americano-britannico Harvey Keitel e Jane Fonda, Michael Kane e Rachel Weisz, Sorrentino potrebbe vincere la Palma d'Oro.

22/05/2015, 08:28
Augusto Orsi