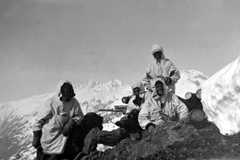 Premio Genziana d'Oro Migliore Film
Himalaya, le chemin du ciel
di Marianne Chaud (Francia)
Con i suoi occhi sorridenti e puri, entriamo nel mondo affascinante dei monaci del monastero di Phukthal, con la sua spiritualità, costumi e quotidianità. Il film è girato con grande complicità da una regista profonda conoscitrice della cultura locale, che, con una macchina da presa invisibile, crea l'impressione di vivere gli eventi con il proprio cuore.
Premio della Giuria
Salt
di Michael Angus e Murray Fredericks (Australia)
Il fotografo australiano Murray Fredericks si avventura nei luoghi remoti del lago Eyre per affrontare temporali, fango, guasti, sale, solitudine e sopratutto se stesso con lo scopo di trovare una bellezza nascosta, di purificarsi e così riuscire a conoscere la sua natura vera. Il film, fatto quasi completamente dal solo fotografo, entra nel medio artistico stesso, combinando le magnifiche fotografie di grande intensità con le prese cinematografiche di una vita totalmente isolata.
Premio Genziana d'Argento Migliore Cortometraggio
Oyan
di Esmae'l Monsef (Iran)
Nel breve e intenso racconto della quotidianità di un giovane postino che porta le lettere da una parte all'altra del confine e di una misteriosa ragazza che le riceve il regista offre, con un tocco di grande classe narrativa, uno spaccato dell'Iran più vero e rurale, dove l'ambiente dilata il tempo. Una tematica nella grande tradizione del cinema iraniano e dei suoi registi.
Premio Genziana d'Argento Migliore Mediometraggio
Polyarnik
di Nikolay Volkov (Russia)
Diretto con mano leggera e felice, a volte anche ironica, Polyarnik dimostra come la semplice storia di un figlio che abbandona per un lavoro nel gelido nord la casa paterna possa diventare un racconto gradevolissimo ed estremamente originale nonché spunto per indagare i risvolti più intimi della realtà e dei suoi protagonisti fra i quali spicca la fulgida figura dell'anziana madre, Romualda Flyorovna, che attende con ansia in un piccolo villaggio bielorusso, il ritorno dell'amato primogenito.
Premio Genziana d'Argento Migliore Contributo Tecnico-Artistico
Mount St. Elias
di Gerald Salmina (Austria)
Tre appassionati dello sci estremo si lanciano dal Monte S. Elia (5.489 m) in Alaska. Delle immagini stupefacenti di sci sulle valanghe, delle pendenze che fanno tremare, dei salti vertiginosi dai quali sembra impossibile uscire indenni. Grazie a una tecnica perfettamente padroneggiata il regista ci pone al centro dell'azione e ci offre degli istanti magici.
Premio Città di Bolzano Genziana d'Oro Migliore Film di Esplorazione o Avventura
Birdman of the Karakoram
di Alun Hughes (Gran Bretagna)
Il film riesce nel difficile compito di far partecipare lo spettatore a una delle più innovative ed estreme avventure ancora possibili in Himalaya. Il regista Alun Hughes, incastrato nel sedile del fragile parapendio biposto di John Silvester, senza ossigeno a più di 6.000 metri, impaurito, congelato e sempre al limite della crisi, riesce a farci vedere le cime himalayane da un punto di vista del tutto nuovo. Il passaggio del colle dello Shispar, vissuto quasi in diretta è una sequenza che entrerà nella storia dei documentari d'avventura.
Premio del Club Alpino Italiano - Genziana d'Oro Migliore Film di Alpinismo o Montagna
Alone on the Wall
di Peter Mortimer e Nick Rosen (Stati Uniti)
Alex Honnold, uno dei più grandi climber americani, scala in solo integrale la mitica Regular Route dell'Half Dome in Yosemite. Durante la sua salita Alex prende costantemente dei rischi incredibili che anche il pubblico meno esperto apprezzerà. In una parete che offre pochi punti favorevoli le cineprese sono state perfettamente situate.
Gran Premio "Città di Trento" Genziana d'Oro
Himalaya, le chemin du ciel
di Marianne Chaud (Francia)
E' la toccante storia dei giovani monaci buddisti di Zanskar in India attraverso la vita di Kenrap, un ragazzo di 8 anni che da quando ne aveva 5 è stato riconosciuto come la reincarnazione di un vecchio monaco. Con i suoi occhi sorridenti e puri entriamo nel mondo affascinante dei monaci del monastero di Phukthal, con la sua spiritualità, costumi e quotidianità. Il film è girato con grande complicità da una regista profonda conoscitrice della cultura locale, che, con una macchina da presa invisibile, crea l'impressione di vivere gli eventi con il proprio cuore.
Premio "Luciano Emmer"
Nanga Parbat
di Joseph Vilsmaier (Germania)
Riapre un tragico capitolo di cronaca affrontando il tema dell'avventura,anche estrema, con uno sguardo attento non solo al fascino di una natura improvvisamente nemica ma anche ai sentimenti privati e al risvolto emotivo di un dramma familiare
Premio Museo Usi e Costumi della Gente Trentina
Der Kinderberg
di Reinhard Bjorn (Romania)
Con sensibilità e con affetto, di propone una visione senza tempo di una piccola e del tutto casuale comunità di bambini in una contrada remota della montagna rumena, quale riuscita metafora universale della condizione infantile, sottesa di un sentimento religioso garbato ed efficace.
Premio Mario Bello Migliore Film di alpinismo realizzato da Alpinisti
Asgrad Jamming
d Sean Villanueva O'Driscoll (Belgio)
Si distingue per la freschezza del racconto di cui sono protagonisti alcuni dei più forti alpinisti del momento impegnati in una difficile arrampicata in rotpunkt nel corso di una spedizione del Club alpino belga alla parete nord-ovest del monte Asgard, in Terra di Baffin, Canada. L'obiettivo della telecamera riesce a scrutare sia i momenti di azione estrema, quanto quelli più rilassati delle soste, nonché quelli conclusivi sulla vetta, dove gli alpinisti manifestano la loro irrefrenabile soddisfazione, tanto da far risultare l'opera come un invito a vivere l'alpinismo in modo consapevole, ma anche gioioso.
Premio Gianbattista Lenzi, Rino Zandonai e Luigi Zortea Migliore Reportage Televisivo
L'Ultima Battaglia delle Alpi
di Roberto Cena e Fabio Canepa (Italia)
Il filmato, che si avvale anche di una vasta documentazione dell'Istituto Luce, rievoca una pagina di storia sconosciuta ai più. Vale a dire il tentativo della Francia, negli ultimi giorni della seconda Guerra mondiale, di annettersi la Valle d'Aosta e la tenace resistenza all'annessione non solo dei partigiani ma pure dei soldati della Repubblica di Salò. Entrambe le formazioni unite per fermare "l'invasore" straniero.
Premio Città di Imola Migliore Film Italiano
Gente d'Alpe
di Giovanna Poldi Allai, Filippo Lilloni e Sandro Nardi (Italia)
L'Alpe di Succiso, nel cuore del Parco Nazionale dell'Appennino Tosco Emiliano, diventa lo scenario in cui si racconta ancora una volta il miracolo della comunione tra uomo e natura lontano dai frastuoni e dai vincoli estenuanti della modernità.
Premio Solidarietà Cassa Rurale di Trento
The Small Kingdom of Lo
di Giuseppe Tedeschi, Caroline Leitner, Daniel Mazza (Italia)
La vita di gruppo, l'aiuto reciproco e la solidarietà, elementi cardine della vita socio economica di Tsarang, accompagnati dai sogni dei giovani per un futuro migliore, concorrono ad alleviare le sofferenze originate dalla povertà e dall'isolamento sociale, così come avvenne nelle vallate del Trentino agli albori del movimento cooperativo.
Premio Studenti Università di Trento e Innsbruck
Panie W Gorach
di Anna Filipow e Krysztof Wielicki (Polonia)
La particolare strutturazione in capitoli aiuta a comprendere l'evoluzione del pensiero dell'alpinismo femminile polacco in maniera fluida e chiara. Le testimonianze di grandi personalità alpinistiche sono avvalorate dalle combinazioni di accattivanti immagini storiche e suggestive riprese attuali.
Premio della Stampa Bruno Cagol
Petropolis
di Peter Mettler

09/05/2010, 14:35
Simone Pinchiorri